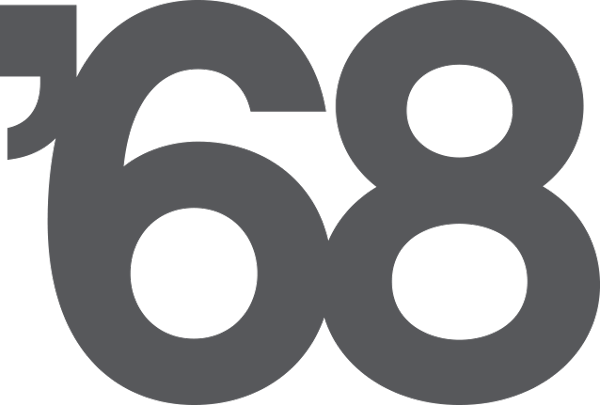 FOR IMMEDIATE RELEASE
CONTACTS:
Beth Strohbusch, 414-213-8818, bstrohbusch@gmail.com
Tom Coenen, 773-401-9398, tcoenen@gmail.com
Compelling historical production about the 1968 Democratic Convention, '68 – a new American musical, will debut at 2018 New York Musical Festival
Original new work conveys impact of turbulent time in America as told with passion, humor, insight and memorable musicality
New York, NY, June 1, 2018 — Fifty summers after the volatile, Chicago-hosted 1968 Democratic National Convention, '68 – a new American musical, will debut in July 2018 as an invited production of the highly acclaimed New York Musical Festival (NYMF). Told through unexpectedly moving tales about characters whose lives were impacted by intensely turbulent times, the compelling new work uses passion, humor, insight and highly memorable musicality and performances to haunt and inspire audiences of baby boomers and new generations by sharing lessons learned.
Award-winning creators include New York-based Jamie Leo (concept, book and lyrics) and Paul Leschen (music and arrangements).  Directing the performance is Joey Murray. Information is available at www.68musical.com or at www.nymf.org/68.
"The summer of 1968 was a profound and emotionally moving time for America, with baby boomers on the ground in Chicago and in front of TVs witnessing vast scenes of anger and violence," said Murray, who recently directed a production of the 1960s Hair at Pentangle Arts in Woodstock, Vermont. "With an authentic an unforgettable score, we've created an experience that transcends audiences in time, moving and lifting them by the heartaches, history, and culture of '68. The entire team behind '68 is thrilled to be invited to the esteemed 2018 New York Musical Festival."
The story is told through the lens of characters including Chicago research librarians, hotel housekeepers, street cops, campaign volunteers and community organizers. It is insightfully written and beautifully composed by award-winning artists who are also keen observers of politics. Albee Fellow Leo, for example, who said he "stayed very close to my heart and to social activism as I understand it," has decades of front line and leadership work with social justice advocacy.
Leo said that his observations are "airborne by composer Paul Leschen's exquisite and raw melodies, allowing '68 to present a portrait of America firmly grounded in the present and looking forward to a shared future. It's a narrative, a eulogy, and a celebration of struggle as suggestive of current events as a look into a time capsule."
Leo recently directed a revival of Deb Margolin's Critical Mass and performed his Long Day in a Bad Shirt monologues with real-time projected animations at Dixon Place. For the Henson Foundation, he developed a groundbreaking piece of puppetry work at St. Ann's Warehouse. His solo work The Night Hides a World, is based on his invitation to speak at the University of Tehran. His new play What You Call The Dark is in development and was read at New York Theatre Workshop in March.
Leschen was nominated for his score for Sleep Tight by NY Innovative Theatre Awards, and for a Drama Desk for Outstanding Music for Twist. A frequent collaborator with Scissor Sisters, his co-arrangement of "Comfortably Numb" was a massive hit. Paul has worked with Hedda Lettuce, Murray Hill, and other genderbenders and has a band, Kingship, with singer/co-writer Chris Hall. Paul's collaboration with Fred Sauter has yielded The Astronaut Love Show and Karma Kills.
A theater, concert, and music video director, Murray recently directed the acclaimed production of Hair at Pentangle Arts. His regional theater credits include: Jenny Wiley Theatre (former Artistic Director and director of 10 MainStage productions); Paper Mill Playhouse; Gateway Playhouse; Pentangle Arts; ArisTree/Grange Theatre; Hard Rock Live Arena; Downstairs Cabaret Theatre; and Legacy Theatre. His New York credits include: NY Musical Theatre Festival; NY Int'l Fringe Festival, Theatre at St. Clements; Queens Theatre; New York Theatre Barn; Fordham University; 54 Below; Joe's Pub; Triad/Stage 72; Zipper Theatre. His tour works include The Broadway Dolls (int'l tour) and Polkadots (regional tour) and he has a professional music video debut for Element Music in NYC.
The production receives support from the Gregory J. Coenen Family Foundation, New York-based Tom Coenen and Chicago-based Tim Coenen.
Information for '68 – a new American musical
www.68musical.com
Tickets:
Individual tickets go on sale June 14, 2018 and will be available from the New York Musical Festival. NYMF passes are now on sale and offer discounted tickets, early ticket booking, and priority seating. Pass redemption for 2018 NYMF will begin Thursday, May 31st. Visit nymf.org/tickets for more information.
Performance Dates, Times:
Tuesday, July 24, 2018 at 8pm
Thursday, July 26 at 5 pm
Saturday, July 28 at 5 pm
Saturday, July 28 at 9 pm
Sunday, July 29 at 5 pm
Location:
The 2018 NYMF will take place July 9 through August 5 at the Acorn Theatre at 410 W 42nd Street in New York. Watch for details at www.68musical.com and www.nymf.org.
Connect on Social Media:
'Like' '68 at https://www.facebook.com/68musical and follow the production on Twitter @68musical. Join the conversation with #68musical.
About New York Musical Festival – http://www.nymf.org
The New York Musical Festival (NYMF) nurtures the creation, production, and public presentation of stylistically, thematically, and culturally diverse new musicals to ensure the future vitality of musical theater. Now in its fifteenth year, the Festival is the premier musical theater event in the world. The preeminent site for launching new musicals and discovering new talent, the NYMF provides an affordable platform for artists to mount professional productions that reach their peers, industry leaders, and musical theater fans. More than 90 Festival shows have gone on to productions on and Off-Broadway, in regional theaters in all 50 states, and in more than 20 countries worldwide. Festival alumni have received a wide array of awards including the Tony Award and the Pulitzer Prize. In 2013, NYMF received a special Drama Desk Award in recognition of its work "creating and nurturing new musical theater, ensuring the future of this essential art form." New York Musical Festival, a 501(c) (3) not-for-profit organization is supported, in part, by an award from the National Endowment for the Arts, by public funds from the New York City Department of Cultural Affairs, and by the New York State Council on the Arts, a state agency.
Press Releases