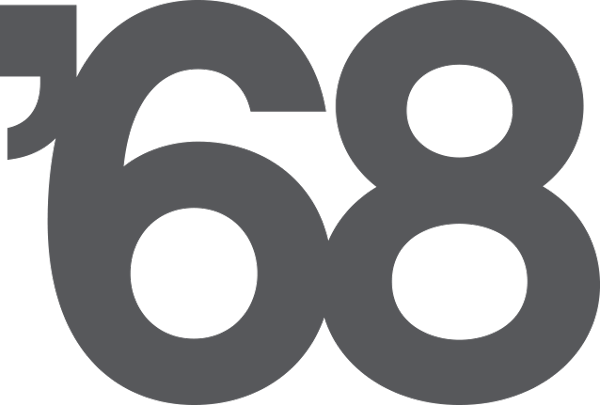 FOR IMMEDIATE RELEASE

Contacts:
Beth Strohbusch, 414-213-8818, bstrohbusch@gmail.com
Tom Coenen, 773-401-9398, tcoenen@gmail.com
'68 – a new American musical unveils cast for premiere performance at 2018 New York Musical Festival
Broadway and Off-Broadway favorites — including Mary Callanan and Bob Gaynor — will present passionate new work about the volatile 1968 Democratic National Convention and turbulence of times in America
New York, NY, June 21, 2018 — The creative and production teams for '68 – a new American musical are pleased to announce the cast for its debut performance on Tuesday, July 24, 2018 at the Acorn Theater at Theater Row, 410 W. 42nd St., New York. Featuring a compelling book and lyrics by Albee Fellow Jamie Leo and authentic, unforgettable score by award-winning composer Paul Leschen, this official selection of the 2018 New York Musical Festival (NYMF) will have four additional festival presentations on Thursday, July 26, Saturday, July 28 and Sunday, July 29, 2018. For festival details and information about purchasing individual tickets or a NYMF pass, visit www.nymf.org.
A fiercely original work that shares lessons learned, '68 – a new American musical is inspired by and debuts 50 years after the volatile 1968 Democratic National Convention in Chicago. Forging a narrative and a eulogy, it tells unexpectedly moving tales about characters at the center of turbulent times — research librarians, hotel housekeepers, street cops, campaigners, protesters and community organizers. The production uses passion, humor, insight and highly memorable musicality and performances to haunt and inspire audiences of baby boomers and new generations alike.
Directed by Joey Murray, with musical direction by Rob Baumgartner, the exceptionally talented '68 ensemble represents multiple characters whose lives were impacted by 1968 Democratic Convention in profound – and unexpectedly hilarious – ways. The cast features a stellar line-up spanning significant breadth and depth of talent including several Broadway and Off-Broadway favorites.
The ensemble includes:
DELPHI BORICH was most recently seen as in Gloria (Kendra) at Asolo Repertory Theatre. Nationally she's toured in Rodgers and Hammerstein's Cinderella (u/s Ella). Her regional appearances include Peter and the Starcatcher (Molly) at the Barn Stage Company and Peter Pan (Wendy) at Syracuse Stage. She is a graduate of Syracuse University BFA Musical Theatre.
MARY CALLANAN most recently played in last season's BANDSTAND (Jean Ann Ryan). Previously, Mary played in the first national tour of The Bridges of Madison County (Marge.) Broadway performances include Mama Mia! (Rosie – final company) and ANNIE (Mrs. Pugh/ Miss Hannigan understudy.) On tour, she's appeared in Mamma Mia, Sound of Music, Big and Damn Yankees and regionally her credits include Gypsy, BBAJ, Make, Les Mia, Falsettos, Follies, Batboy, Sweeny Todd, Sunday in the Park, Chicago and Violet. 
LEANDRA ELLIS-GASTON has been seen in Memphis (Felicia,) the European tour of Hair and NCL's After Midnight, as well as Dreamgirls, Hairspray, Once on this Island, and much more. She also runs a YouTube channel called Girl Meets Broadway. She received her bachelor's degree from AMDA Los Angeles.
BOB GAYNOR played in several original Broadway casts: Leap of Faith, Catch Me If You Can, Sweet Charity (Vittorio/us), Boy George's Taboo (Leigh Bowery/us), Elton John's Aida (Radames /sb). At the New York City Center, he appeared in Bye Bye Birdie (Conrad), Applause, and Stairway to Paradise. Regional credits include An Audience with Meow Meow (Jonathon) Berkeley Rep, Next to Normal (Dan) Broadway World nominee, Leap of Faith, First Wives Club, Smokey Joe's Café (Michael), A Chorus Line (Zach). Film and television appearances are Broadway 4D, Across the Universe, The Mask, The Sound of Music Live with Carrie Underwood, Blue Bloods, Law & Order, All My Children (Mitch Morrison), One Life to Live, As the World Turns and the American Music, Emmy and Academy Award shows. Educated at Cal State University Long Beach, Bob has toured with artists including Reba McEntire, Paula Abdul, Cher, and Cheyenne.
MAGGIE HOLLINBECK makes her NYMF debut following national tours with Once (Baruska standby); Annie (Connie Boylan,) Off-Broadway appearances in Red Roses, Green Gold (Miss Glendine,) and an NYC appearance in Richard III (Queen Elizabeth.) She's performed regional works at the Pasedena Playhouse, The People vs. Mona  (Miss Frye,) and at the Goodspeed Opera House, Finian's Rainbow (Sharon); Little Fish (Charlotte); and See What I Want to See (Kesa/The Wife/An Actress).
JOE JOSEPH is a NYMF first-timer with Off Broadway and NYC works including Loveless Texas, Baghdaddy, The Queen's Dilemma, Genet Porno and regional works including Strait of Gibraltar, HAIR, Kiss of the Spiderwoman, Sister Act, and Making Porn. Television work includes A Crime to Remember, Redrum and ads for Newport and Disaronno. Joe is a graduate of the University of Michigan and the University of Detroit Jesuit.
JEREMY KONOPKA has regional credits including Dogfight (Fector); Spring Awakening, (Georg, Otto); We Are Proud to Present…(Another White Man); and This Wonderful Life (Narrator et al.). He has collaborated on demos and workshops of new works in NYC and Philadelphia and performed in cabarets and concerts at The Broadway Comedy Club and Feinstein's/54 Below. He is a graduate of The University of the Arts.
UTON ONYEJEKWE is a singer, actor and musician with NYC work in Signature, Ma-Yi  and regional works at Sierra Rep, Skyline, 4th Wall and ReVision. As a musician, he's played at Stone Pony, Knitting Factory, Bitter End, and NJPAC, among other venues countrywide.
JONATHAN SPIVEY appeared on Broadway in The Front Page; Act One, (Lincoln Center, televised for PBS) and Off-Broadway in Summer and Smoke (Classic Stage/Transport Group). Regionally, he's performed at Yale Rep, Long Wharf, The Old Globe, Barrington Stage, Maltz Jupiter, Milwaukee Rep, Syracuse Stage, Geva Theatre, Cape Playhouse, Virginia Rep, Heritage Theatre Festival. With a master's in fine arts from Old Globe/University of San Diego, he is a playwright, jazz pianist, composer and lyricist.
NICOLE PALOMA SARRO makes her NYMF debut. On national tour, she appeared in In the Heights and regionally her credits include Gypsy( Rose), Les Miserables (Madame Thenardier), and Legally Blonde (Paulette).
Leo stated, "To hear our songs, with Paul Leschen's unforgettable melodies, airborne by the breathtaking voices of this cast, and Rob Baumgartner's keen musical directing… people are in for a very singular theater experience."  
Evan Bernardin Productions is the general manager, and Gwynne Richmond is the company manager. The production receives support from the Gregory J. Coenen Family Foundation, New York-based Tom Coenen and Chicago-based Tim Coenen.
Information for '68 – a new American musical
Tickets:  
Individual tickets and passes to the New York Musical Festival presentation of '68 are available at www.nymf.org/68.
Performance Dates, Times:
Tuesday, July 24, 2018 at 8pm

Thursday, July 26 at 5 pm

Saturday, July 28 at 5 pm

Saturday, July 28 at 9 pm

Sunday, July 29 at 5 pm
Location:
The 2018 NYMF will take place July 9 through August 5 at the Acorn Theatre at Theater Row, 410 W 42nd Street in New York. Watch for details at www.68musical.com and www.nymf.org.
Connect on Social Media:
Like '68 at www.facebook.com/68musical and follow on Twitter @68musical. Join the conversation with #68musical.
About New York Musical Festival – www.nymf.org
The New York Musical Festival nurtures the creation, production, and public presentation of stylistically, thematically, and culturally diverse new musicals to ensure the future vitality of musical theater.
Now in its fifteenth year, the Festival is the premier musical theater event in the world. The preeminent site for launching new musicals and discovering new talent, the Festival provides an affordable platform for artists to mount professional productions that reach their peers, industry leaders, and musical theater fans. More than 90 Festival shows have gone on to productions on and Off-Broadway, in regional theaters in all 50 states, and in more than 24 countries worldwide. Festival alumni have received a wide array of awards including the Tony Award® and the Pulitzer Prize. In 2013, NYMF received a special Drama Desk Award in recognition of its work "creating and nurturing new musical theater, ensuring the future of this essential art form."
NYMF is the flagship program of National Music Theater Network, Inc., a 501(c) (3) not-for-profit organization. 2018 NYMF is sponsored by The City of New York Mayor's Office of Media and Entertainment, PRG, TheaterMania, Clear Channel Outdoor, Tinc Productions and Fox Stage Productions and is supported, in part, by an award from the National Endowment for the Arts, and by public funds from the New York City Department of Cultural Affairs.
The NYMF PASS is a great way to experience The New York Musical Festival. With a NYMF PASS, you can get into the theater before individual ticket holders. Passes also offer the exclusive ability to book tickets before they go on sale to the public. Individual tickets on sale now.
The 2018 New York Musical Festival will take place July 9th – August 5th. For more information, please visit www.nymf.org.
Press Release 4